Today, I will be doing my Top 5 Wednesday and recommending you all some books. Top 5 Wednesday was created by Lainey over at GingerReadsLainey and is now run by Sam over at ThoughtsOnTomes.
Today's topic is books to give as gifts. Everyone doing this tag gets to choose a theme for the books they want to recommend and my theme is Adventures and Quests. I love books that center around the theme of adventures and quests because they tend to have alot of action. The books I will be recommending today will be mainly middle-grade, but if you have some YA and adult suggestions, please feel free to mention them in the comments below.  But, for now, let's get to my list:
1. The Land of Elyon: The Dark Hills Divide by Patrick Carman (MG).
Yes, I know, I mention these books alot, but guess what? I love them, so I'm going to keep bringing them up. This book follows a 12 year old girl named Alexa Daley who visits a walled city called Bridewell every summer. Each time she goes there, she imagines what it would be like to venture out beyond the stone barriers and into the wild of the Dark Hills. And this summer, she finds a way out. Outside the walls she, along with her new companions Yipes, Darius the wolf and Murphy the squirrel, go on an adventure through the wild to prevent an evil force from overtaking their precious Land of Elyon.
2. Percy Jackson and the Lightning Thief by Rick Riordan (MG).
Everyone should know this story by now as it is one of the most popular books of all time, with the exception of Harry Potter of course. But, if you don't, this book is about Percy Jackson who discovers that he is the son of one of the Big Three Greek Gods of Olympus. He travels to a camp for Half-bloods called Camp Half-Blood with his best friend Grover where he meets Annabeth, the daughter of the Goddess of Wisdom and Battle Strategy Athena. Together, these two heroes and a satyr go on a quest to retrieve Zeus' stolen lightning bolt from Hades to return it to Olympus before the commencement of the Summer Solstice to prevent a war among Gods.
3. Deltora Quest: The Forests of Silence by Emily Rodda (MG)
This is the story of Leif who goes on a quest with his companion Barda, an ex guard of the kingdom of Del, to find the 7 gemstones of the Belt of Deltora in order to protect their land from the evil Shadowlord. They must defeat many evil creatures and solve riddles/puzzles along the way in order to find the gemstones. This book is great because the reader can also participate in the solving of the riddles or puzzles as well.
4. Eragon by Christopher Paolini (YA)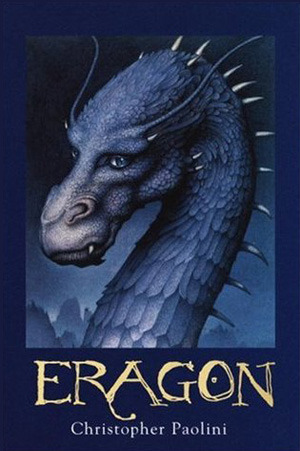 When Eragon finds a polished blue stone in the forest, he thinks it is the lucky discovery of a poor farm boy; perhaps it will buy his family meat for the winter. But when the stone brings a dragon hatchling, Eragon realizes he has stumbled upon a legacy nearly as old as the Empire itself. Overnight his simple life is shattered, and he is thrust into a perilous new world of destiny, magic, and power. With only an ancient sword and the advice of an old storyteller for guidance, Eragon and the fledgling dragon must navigate the dangerous terrain and dark enemies of an Empire ruled by a king whose evil knows no bounds. Can Eragon take up the mantle of the legendary Dragon Riders? The fate of the Empire may rest in his hands.*
5. The Fellowship of the Ring by J.R.R. Tolkien
In a sleepy village in the Shire, young Frodo Baggins finds himself faced with an immense task, as his elderly cousin Bilbo entrusts the Ring to his care. Frodo must leave his home and make a perilous journey across Middle-earth to the Cracks of Doom, there to destroy the Ring and foil the Dark Lord in his evil purpose.*
So that is it for my Top 5 Wednesday. I hope you all enjoy these books if you do choose to pick them up.
Thank you for reading 🙂
MG – Middle-Grade                                                                                                                      YA – Young Adult                                                                                                                           *I have not read this book and this is the Goodreads synopsis of that book.